About
What is Squeeze Token
The Squeeze token was birthed from a serious problem most crypto investors face when investing in small cap crypto projects. This is the abandoning; rug pull and speculation of their investment. Our unique utilities were conceived with the vision to help prevent investors from losing their investments to obvious unsafe investments. We also aim to help keep their investment sound by keeping them aware of any suspicious wallet activity.
We built a platform for
The crypto trading Industry
We have burnt 75% of our total supply.
Within our cryptocurrency exchange, squeezeswap, we only promote rug free projects.
We believe in the power of true, community ran, decentralization.
Abstract
The small cap crypto space has been plagued with unsafe investments due to the malicious activities of a few different players. The most common players are the devs who abandon, and rug pull projects. They are constantly creating new coins and stealing new money from new people.
Fee Breakdown
* 8% Redistributed to all holders
* 3% Allocated to marketing and split for

Marketing
Liquidity/Buy back
Dev fee
Solutions
Problems & Solutions
Cryptocurrency and investing in projects are growing in popularity, and fast. Creating a safe space for investors to invest is our mission.
Problems
Everyday new projects are being created by people who are copying and pasting contracts.
These contracts are leading to more and more rug pulls
These rug pulls are causing new investors to be pushed away from cryptocurrency and as there is no industry standard for safe investments, we can work together to create one.
Solutions
The Squeeze token will fix these problems by providing a DAPP that will scan contracts for common code used in unsafe small cap crypto investments. We will also create a DAPP that will alert investors of speculative wallet activity.
In addition to this, we will help equip investors and new projects with all the tools they need to help their project succeed.
Changing The Game
The Squeeze Seal of Approval

Within Squeezeswap, (The Squeeze Token Exchange) we believe in truly promoting Rug-free projects. Every token that is listed on our exchange for trading has been internally audited by our team, to ensure that we are only promoting Rug-Free and long-term investments. By earning the Squeeze Seal of Approval, projects can market that they have been audited by the Squeeze team, which we will help support.
---
In order for a project to list on our exchange, they must pass an in-depth audit that is conducted by our team. If we find that your project meets our requirements, your project will be issued the Squeeze Seal of Approval.
INTERESTED IN LISTING YOUR PROJECT ON SQUEEZE EXCHANGE? APPLY TODAY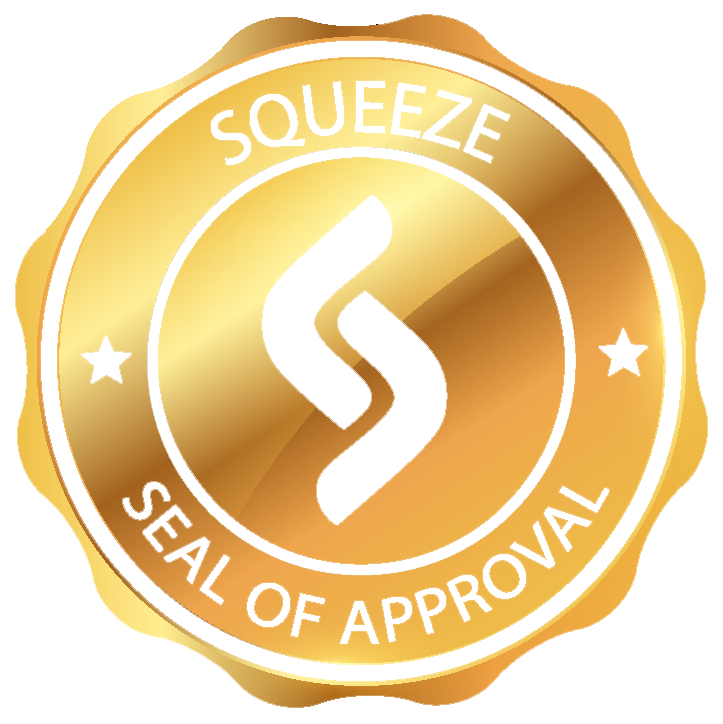 Documents
Whitepaper
Terms of service are rules by which one must agree to abide in order to use a service.
Terms of service can also be merely a disclaimer, especially regarding the use of websites.
Read SqueezePaper
A white paper is an authoritative report or guide that informs readers concisely about a complex issue and presents the issuing body's philosophy on the matter. It is meant to help readers understand an issue, solve a problem, or make a decision.
The initial British term concerning a type of government-issued document has proliferated, taking a somewhat new meaning in business. In business, a white paper is closer to a form of marketing presentation, a tool meant to persuade customers and partners and promote a product or viewpoint, White papers may be considered grey literature.
Since the early 1990s, the term "white paper", or "whitepaper", has been applied to documents used as marketing or sales tools in business.
Implementation
Roadmap
This is a future of Squeeze Token.

Squeeze & Swap
devlopment
Hotbit listing of
Squeeze Token
Obtain 1000 holders
Live Now
Software development
for wallet alert integrations
Software development
for Rug Checker integrations
About coin
Our COIN
Decentralized cryptocurrency is produced by the entire cryptocurrency system collectively
at a rate which is defined when the system is created and which is publicly known.
Squeeze Token
100,000,000,000,000 Total Supply
75% of Total Supply is burnt and growing with every transaction
Token Stats
Token Redistribution
Squeeze token offers a total of 8% Redistribution to all
holders of our token.
Details
Squeeze Token has a 11% fee on each transaction,
8% of the fee is to allocate for redistribution, while the 3%:
Buyback / Liquidity: Used to increase squeeze tokens floor
Marketing: Used for marketing squeeze token
Dev: Used for development fees and maintenance of the project
SQUEEZE GIVES BACK
PHILANTHROPY
Squeeze will continue to donate a portion of our Marketing funds to Charity as our project grows!

Want to suggest a charity? Click here
Squeeze is accepting donations. Our donation wallet address is 0x8ab5AdBa2209d8b31E104c508C7A3084FF6343Da
JOIN US
Have questions? We're happy to help.
EXCHANGE LISTINGS
Purchase Squeeze on the following exchanges.